---
Adrenaline Rush
Rental Price: $450 without generator
Rental Price: $500 with a generator
Mia Party Rental offers this Wonderful Obstacle course rental to help you turn up the fun and competition at your event. Adrenaline Rush Obstacle course features a 360-degree dual lane challenge for 2 competitors at a time. The coolest thing about this obstacle is that you cannot see your competitor until you reach the rock wall and come together in the middle. .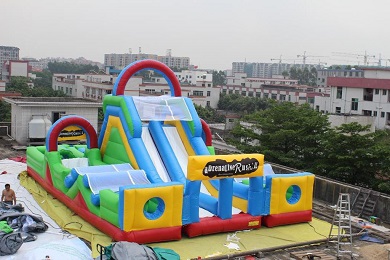 The 2 competitors start their race by entering through the crawl hole on their side of the obstacle course and running through their side of the obstacles as fast as they can to try and reach the 360 turn first where they will ultimately meet their competitor and climb the final rock-climbing wall and slide to the finish. This obstacle is so exciting and fun and definitely brings on an Adrenaline Rush while trying to guess where your competitor is and trying to beat them to that final turn, climb, and slide. During your challenge you will find Vertical popup obstacles, obstacles you must crawl through or under, tire race, rock climbing wall, and finally a 17 ft tall slide to race to the finish.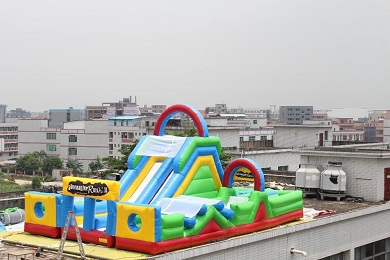 This obstacle inflatable is a 40' L X 30' W and 16' H. It is a 3-piece obstacle course and is great for ages to 5 to adult. This is a must have obstacle for school field days, church events, corporate team building, company picnics, customer appreciation days, and much more. The kids will love this obstacle, but so will the teens, and adults. You can make everyone happy with this one inflatable obstacle course.
This inflatable Obstacle Course will create a challenge and bring out the competitive edge at your next party!.